I should be a hundred times more excited but I'm not. San Diego Comic Con is six weeks away, it's almost time for street re-routing traffic, people who for some reason feel that the need for daily bathing should be put on hold for 4 days, and 3 hour lines to catch a glimpse of Angelina Jolie or other celebrities that have no business being there. That very reason is why I've decided this will be my last SDCC (even if I ever become a pro).
When I was twelve years old , I hitched a ride to my first comic con with my older cousins and some not so savory characters. In those days this show was only about comic books, you didn't have to buy tickets a year in advance and the only fat girls in softball uniforms played for San Diego state. It was back then, comic book companies had the biggest booths and I could see videos of upcoming events set to "For whom the bell tolls." Good free stuff would flow like chocolate from a fountain, and exclusive toys were available to everyone. Professional artist use to love being at the one place where everyone knew who they were and were treated like celebrities. These guys and gals use to drop vacation plans just to be there, today they are just as annoyed as us comic fans. I found out today, one of my favorite artist wasn't going to be there, that was the last straw for yours truly. Yes San Diego once was about comic books, seeing as it will never be that way again it's time to find new shows, however in my sarcastic generosity, I've decided to prepare anyone thinking about going for the first time or people that often go and never learn. My experiences will save you a ton of cash to boot.
First you need to understand the scope of the event, picture the biggest event you've seen in person; the Dodger game at the Coliseum, E3, Laker parade? All these events pale in comparison to what you are about to walk into. Over 200,000 people from all over the world, their are small countries that don't even have that population living there. These rabid fan-people and bandwagoneers gather here and every year that goes by this number will only grow exponentially.
So lets start off, where your thoughts will begin. "If I go there later, there will be fewer people!" NO, this is a misconception based on, your holiday shopping experiences; as the day progresses crowds only get bigger. The only thing that thought will save you is time in the badge pick up line. You should however, not be discouraged by that line if you arrive in the morning; because of the fact that there are almost 100 convention employees specifically assigned to speed this process along, this will be the most painless line during the course of your experience.
Why did I give that part of the tour first? Because that is the thought you will have when you think about preparing for the show. Let's move on to Los Angelinos favorite subject, traffic. No matter how early you think you can leave, you will never beat all of the traffic. The best you can do here is to beat the traffic going to the city. For those dumb enough to think once I get off the freeway my iphone will find a way around, I say this; unless you reach the city by 5am, you will be stuck no matter what. Streets are often blocked to optimize traffic in the city, a GPS is about as good as navigating by the stars at 7am. Getting from the freeway to the convention center is the worst experience a person can have, it can only be compared to delivering a baby through a vagina that only expands to the diameter of a garden hose, while watching a TV stuck on the directv preview channel. How does one get around this? The answer is actually very simple, if you've got an inch of patience and can read a color map, San Diego has one of the best mass transit systems in the world. The trolley runs from 6am to midnight during comic con, making this a great way to avoid the hassle of feeling like you have to leave right after. Last I checked you could ride it all day for a mere five dollars. In my personal experience I've found the stop in the Fashion Valley Mall to be the most convenient. It's location is far enough away from the convention center to give you multiple freeway options for the drive home. You can find all the info here http://www.sdmts.com/Trolley/ComicCon.asp. This is also great for seeing sights like this, I think that's my friend Rhiannon in the far side.
That will also take care of another massive elephant in the room, parking. Parking at the convention center is actually reasonably priced at 12 dollars, however if you don't arrive to the convention center by 6am, chances are there wont be any left. This year people were given the option to prepay for parking but like paying for your college's parking pass, it doesn't mean you wont end up parking in the farthest part of the lot, if your lucky enough to even find a space. There are numerous parking structures around the area and Petco Park, I've been told however that those parking lots can go upwards of $20. If you take the trolley, in some stations you may find free parking, if you take if from a hotel you can park in their lot, usually for a reasonable fee.
Note if you're feeling very adventurous and feel that 50 bucks is worth saving your driving sanity, Amtrak has trains that go from Fullerton to San Diego. I'm not entirely sure how that works, when I looked in to it, round trip just seemed to expensive and I wouldn't want to be left in San Diego without a way to get home. http://tickets.amtrak.com/itd/amtrak#
"So I should get a hotel?" No, unless you've been racking up the unemployment cash like this guy. A hotel is the worst option, the nice hotels around the convention center fill up in March, well before the show. Often times these rooms go for $200 a night, Super 8's and Best Westerns can be found in the out skirts about 10 minutes down the freeway. My first year coming back to Comic Con, I stayed at a Super 8 in San Yisidro just 5 minutes from the US/ Tijuana border. This was bad, and your hearing this from a guy (who thanks to Best Buy) stayed at a hotel in Seattle once, where people slept in the hallway waiting for the person they were going to buy drugs from. If you're lucky, you can split a nice room amongst a group of four people for about $50 a person.
Normally even on a Saturday when you go to Disneyland, you don't make an itinerary the night before of all the rides you want to get on and at what time you have to get on exactly. This however is not Disneyland, with at least a hundred thousand attendees a day, all going for the few capacity things you are trying to see, planning ahead is a must. There's an unspoken rule that I just came up with ten seconds ago, if you really want something you'll wait 3hrs for it. This includes panels to see upcoming movies, exclusive toys, free stuff and autograph signings. The phrase "cool this ends at this time and we can go to this right after," does not apply. There will be people there who in some cases have camped out the night before, just to be the first to get on the Internet and spoil Robert Downey Jr's appearance for people. Accept that you aren't going to beat these people to anything. Look at the program online, pick what you want to see and at least two back up things. Don't be afraid to sit through things you've never heard of, last year in order to see the Walking Dead, Monica and I sat through Hawaii five-0 (why that was at comic con I do not know), it wasn't the worst experience of my life and it ensured that I would be in the ballroom when the Walking Dead premiere panel came on right after.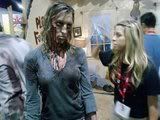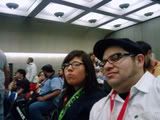 "Eating?" The only words of advice on this subject, bring food! Don't be afraid to lug around an entire lunch, food places in and around the convention center are few and far between, unless you really love pretzels and apple juice. There are a few restaurants, but you often times walk 6-10 blocks up the street and face an hour wait sometimes just to sit down. There's not a Mc D's or Burger King anywhere near there. Save your big appetite for after the show and go to this place, http://www.philsbbq.net/ , best BBQ you've ever had. Myself and Man Vs Food can not be wrong about this. If you feel the need to ignore any of this, but don't want to starve to death; the week before the show follow every movie and production studio on twitter. There are hundreds of sub events outside the convention center, that are within walking distance and almost always have free shirts and food for people. It's a great way to eat for free, that won't take up a ton of time from your convention going. Last year's Scott Pilgrim vs the world event was a huge one and Flynn's arcade filled me and my bag with a weeks supply of free coke zero.
One last thing about the show you can not stress enough. WALK EVERYTHING! This is the biggest event of the year and sets up many of the things you will see for the rest of the year. Comic con is how I saw "the Dark Knight" for free a week early and how I made 150 bucks from selling a tron disc (I got for free) to some dork on eBay. This year, I'd be willing to bet if you searched hard enough you will get something cool from the new "Dark Knight Rising" film that you can sell to someone for 100% profit.
Finally the drive home. It's like a giant scale version of a Dodger game, if you leave in the 7th inning you will beat the traffic, but you may miss something awesome. (Well at least in the times when Either was hitting all those walk off HR's) Leave when the exhibit hall closes and you will face a traffic storm that I guarantee you've never encountered. Best option don't take the 5 freeway, second best (excluding Sunday), I did say only the exhibit hall closes at 7pm, stay and enjoy some of the after hours activities at and around the show. There are always free movies screened at the convention center, last year we saw "Batman: Under the Red Hood" a month before it's release. If you've followed the movie companies you can find lots of great free events to see. Best option for avoiding Sunday traffic, don't go to Comic Con on Sunday or if you have to leave by 3pm (unless Danny DeVito is there doing "It's Always Sunny in Philadelphia" Panel, shit is hilarious).
There you have it, hopefully some of this will save you from the horrible side of Woodstock.....errr I mean Comic Con.


- David N.